Update: This project is fully subscribed, alhamdulillah!  Closed for donations.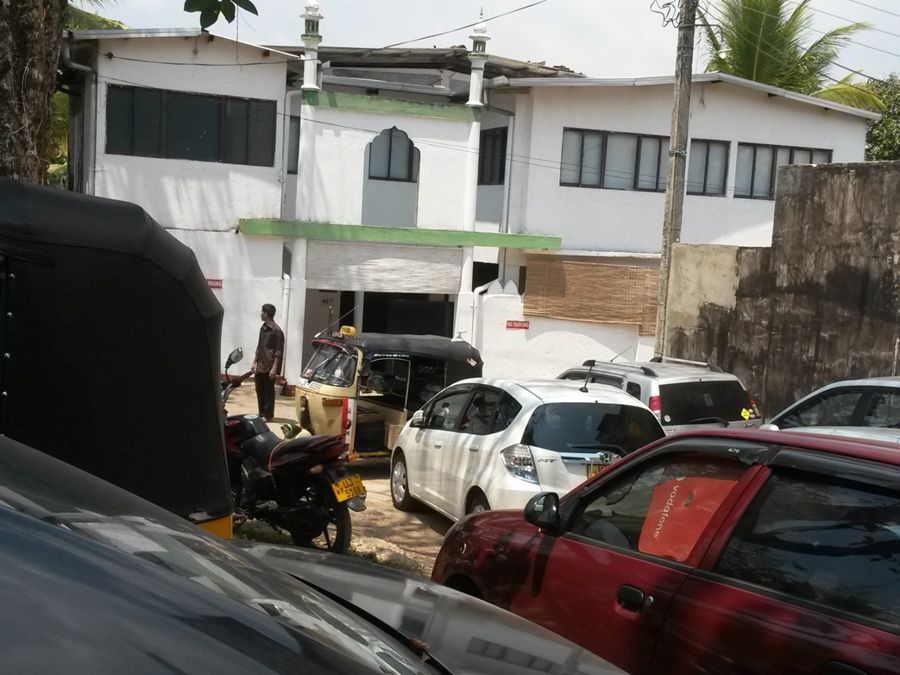 Proposed to Extend of The JAYAWADANAGMA JUMMA MASJID
HISTORY – This mosque began in 1987 with a Jamaath of 125 – 130 families and 10 – 15 men attending the five obligatory prayers in the mosque and with 30 students following the Quran Madarasa. The sacrifice of time, liveliness and vigour by the pioneers – the devoted Muslims, the Masjid's foundation is now 27 years old and registered under Wakf Board – R/2075/C 196.
PRESENTLY -The age of the Masjid and routine of the faithfuls, justifies its expansion, more so, because there are now 75 Muslim houses surrounding the Masjid, 175 Muslim houses in and around Jayawadanagama, and many more in its immediate surroundings. These devotees' enthusiasm is encouragingly increasing by voluntarily involving themselves in Dawaa and social works.
PROGRESS –There are seventy (70) students attending Quran Madarasa, conducted in two (2) sessions; at a nearby house between 4 to 5 pm, and 5 to 6 pm, while Ahadiyyah Classes is also been carried out in the same place on Sundays. The Part Time Hifl Madarasa classes are arranged at the Masjid, attended by twenty (20) students.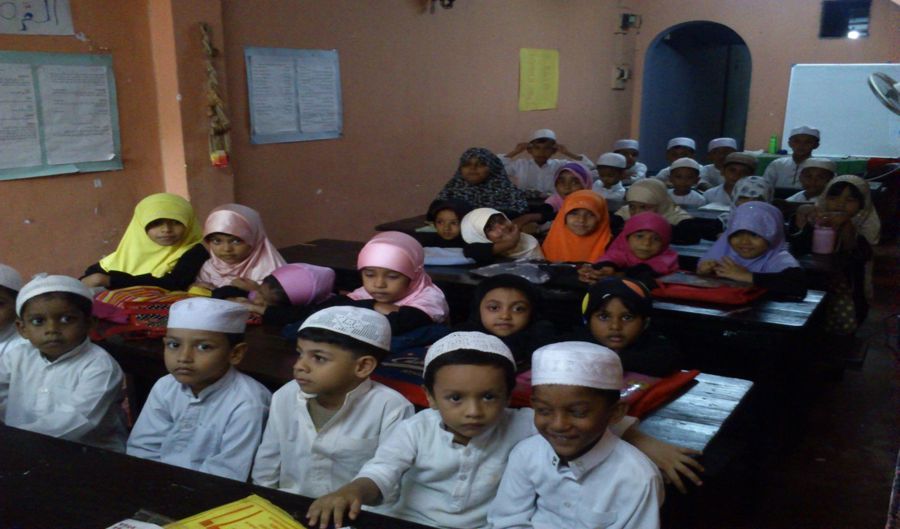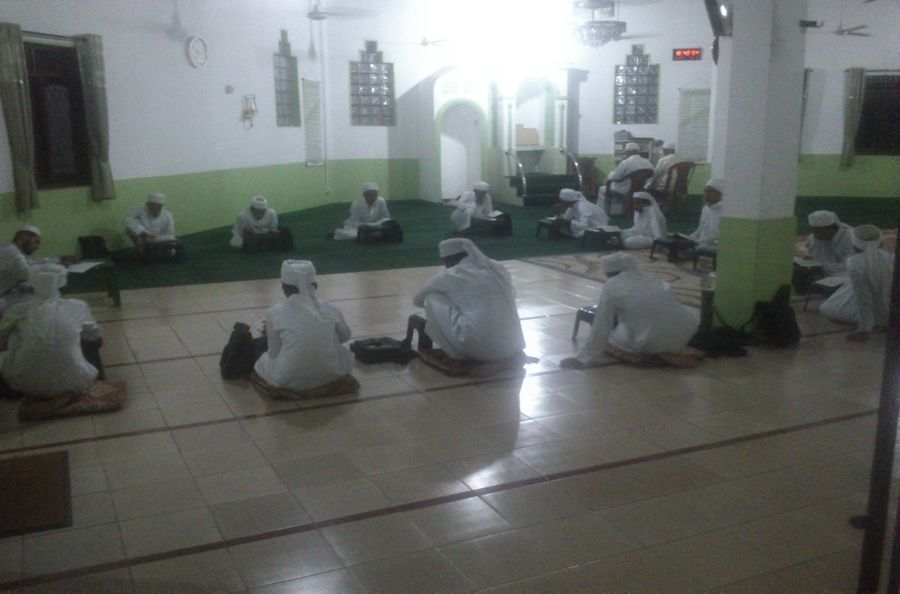 PURPOSE OF THE LAND WITH HOUSE
1. Parking Facilities
Daily for Fajr ,Maghrib and Isha there will be 5 – 6 vehicles and 4 -5 motor bikes.
On Fridays and Festival days there will be a large number of vehicles traffic. Presently we are using a bare land belonging to a non-Muslim brother in front of the Masjid for the purpose of parking on a temporary basis.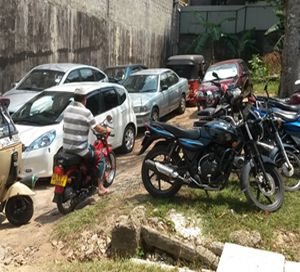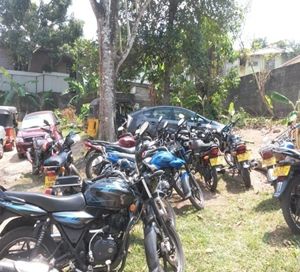 2. Quran Madrasah and Ahadiyyah
We intend bringing the Quran Madrasah and Ahadiyyah under one roof which will result in more space for students to move and learn. More than 100 students will be benefitted from this. Makthab system is to be implemented from January 2015 and Ladies Part Time Madrasah also will be started Inshaa Allah.
3. Festival Prayers for Ladies
The house can be used for the purpose of conducting Festival Prayers along with men at the same time. Presently the Festival Prayer is done repeated four times for     each Eid. This is the prayers picture of our brothers who attended for a Jummah Prayer. The number of men will be much more for the Festival Prayers. In addition, ladies too attend for same.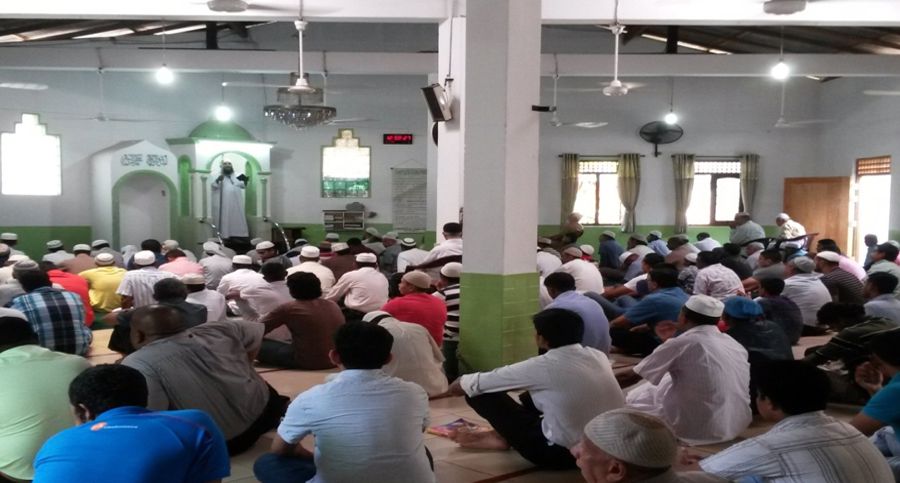 4. Expected Source of Income and Quarters for Hazrath and Muazzin
Provide lodging facilities for Muslims working at the ITN, such as government sector, Parliament and Ministry of Education located in the vicinity. Furthermore there is a great demand for mercantile sector employees as well as Muslim students.
And also to make permanent housing facility for Hazrath and Muazzin which will be a great relief for them so that they could perform their utmost service to the House of Allah
Predictable Expenses
Sum of Rs. 95,000 is needed per month to manage this Jummah Masjid. As it is the income received comprise of Jummah Collection-Rs. 15,000/- (approx) and various donors –
Rs. 30,000 and Jamath Collection – Rs. 25,000. Still as sum of Rs. 25,000/30,000 is needed to bridge the deficits.
Dear Brothers and Sisters in Islam
The above land is valued at Rs. 12.5 Million and Al-Hamdulillah we have managed to get sale agreement signed by the owner itself and gone into occupation by paying an advance payment of Rs. 2.5 Million. In order to make this project a success, we are now appealing for your generous donation to enable us to settle the balance.
We are also making every other measures and efforts through our Mahalla members by various other means in order to raise a sum of Rs. 5.0 Million.
In view of the above , we sincerely hope that you will extend your assistance for this worthy cause and May Allah ' Subahanathala ' bestow His blessings to you and your entire family in this world and Hereafter……… Aameen
IT WILL BE HIGHLY APPRICIATED IF ALL THE DONORS AND WELL – WISHERS COULD FORWARD THEIR DONATIONS BEFORE THE END OF JULY-2015 IN ORDER TO MAKE THIS PROJECT A SUCCESS BY THE GRACE OF ALMIGHTY ALLAH…
Was-salaam!
Yours – in – Islam,
The Committee of Jayawadanagama Jummah Masjid
Adviser                          :          Al Haj Moulavi M. Z. M. Zakir (Madhahiri)    
Adviser                          :         Mr. M. Noor Mohamed (Attorney At Law)
President                       :        Al Haj M. I. Marjan
Vice President               :         Al Haj Althaf Mohamed Ali
Vice President               :        Al Haj, S.J.S. Hisham Moulana
Secretary                       :         Al Haj T. I. Mannan
Asst-Secretary               :         Al Haj Ifthikar Johar
Treasurer                      :         Al Haj Ameer Hamza Abdeen
Asst-Treasurer              :         Mr. A.R.M. Shiyam
Internal Auditor            :         Al Haj.T. Faris Ameer
The Project Committee
Adviser                : Al Haj Moulavi M.Z.M Zakir (Madhahiri)       0770845634
President             : Al Haj M. I. Marjan                                           0713047821
Vice President     : Al Haj S.J.S. Hisham Moulana                         0777901464
Secretary              : Al Haj T. I. Mannan                                         0775476174          
Treasurer             : Al Haj Ameer Hamza Abdeen                         0777518528
Bank Details:-
A/c No                                  –        0100008585-001
Bank Name                          –        Amana Bank PLC
Name of A/c Holder          –         Jayawadanagama Jummah Masjid.
UPDATES: 
Financial Assistance was given partially by donors, Alhamdhulillah!
THE LAND WAS BOUGHT.
May Allah bless them & their families and endow on all of their excellent prosperity in the future years.
Jazakallahu Khairan once again for the generosity.
PROJECT  COMPLETED!