Help the baby's heart surgery-short of funds of about Rs. 200,000/-
Baby Sameeha's surgery was done on Sunday 29th at Durdans Hospital.
Alhamdulillah, the surgery was a success and baby supposed to keep in the ICU with only the mother being permitted to visit. She is responding well Masha Allah but apparently she has to be kept at ICU for a couple of days due to a slight cough.
With regards to the funds, they have received a grant of RS. 150,000/- only from LOFC Al Falaah and is still short of funds of about Rs. 200,000/-. This is provided that the hospitalization stay will not prolong more than estimated, Insha Allah.
The parents could be contacted direct if your wish to on the following nos.
Any details needed can be obtained from them direct if required.
Thajur Rahman (father) – 0777369836
Fathima (Mother) – 0777888373
Highly appreciate your kind donations has been made to towards this cause and may Almighty Allah able us to help more.
May Allah bless you all.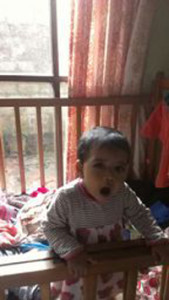 —
Almuslimaath
Sri Lankan Association of Muslim Women & Girls
Ph +94 (011) 2736577
P.O. Box 143, Dehiwela
Website: www.almuslimaath.org
E-Mail: [email protected]