Update: This project is fully subscribed, alhamdulillah!  closed for donations.
12/Nov/2012
Assalamu Alaikum WW
Ridhwaniyyah Arabic College, Kew Road, Slave Island, col02 needs for religious books (Kithaabs) for the library of Ridhwaniyah Arabic College, which will b used for the students as a refference book for their lessons, which wil cost Saudi Riyal (SR) 1000/-  as it should be brought from Saudi.
Update:  Rs.30,000/-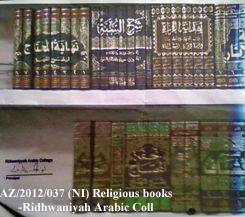 Alhamdhulillah, project compleated through Zakath fund.