Update: This project is fully subscribed, alhamdulillah!  closed for donations.
Assalamu Allaikum waramathullahi wabarakathuhu !
Attached herewith are  the picture and details  of  a cute little Baby born with a deformity called Clef Lip& clef palate.
The parents being poor are short of just  Rs. 75000 to take the child to India for treatment.
would you be able to help? Even partly?
Please let us know as they are trying to go as soon as possible.
Alhamdhulillah, the fund was given by a donor  to fulfill this task.
Jazakallahu Khairan. May Allah bless him & his family!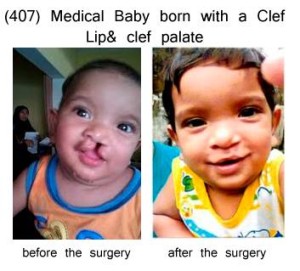 Once again Thanks for your kind donations for the sake of Allah to Help a  Medical  Baby  born with a  Clef  Lip  &  clef  palate to get done the first needed surgery, baby has to go for the second one also.
Attached  are  photos  herewith.
May Allah bless you and your family and endow on all of you excellent prosperity in the future years, and most of all, grants you Jannathul Firdouse in the Akhirah.

PROJECT  COMPLETED!