Assalamu alaikum warahmathullahi wabarakathuhu
We have received an appeal from a father of 4; He has a 3  year old child who had  a cochlear implant done and now needs speech therapy. They being from the east ( Addalaichenai)  have to come to Colombo twice a month and the cost of the travelling and treatment is Rs.15,000 a visit. The child needs treatment probably for another 8 months.
Having undergone  speech therapy for one year, already the child is showing improvement. But unless it is continued, all what had been done  could be in vain.
The parents  cannot afford this expenditure any more.
Will you please help? Even for one month or a single visit?
May Allah accept this from  you and us.
Alhamdhulillah, a donor pledged to donate 15,000/-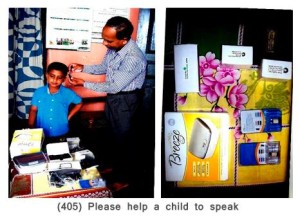 14/04/2014:
a donor donated 15,000/-
May Allah bless them & their families!