Assalamu Alaikum WW,
A girl from a poor family, Baduiddeen Maha Vidyalaya, Kandy has got a full scholarship to follow a course in Medicine in China, Masha Allah.
However she has to buy her own way ticket to china which apparently costs around Rs.50,000/-.
Her father is doing a small job and cannot afford this and and she has to fly on the 5th of September.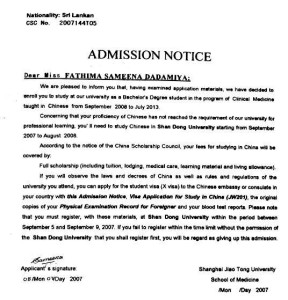 Updates:
A Donor – $150
A Donor – Rs.15,000/-
A Donor – Rs.35,000/-
Jazakallah! May Allah bless them & their families.