Update:This project is fully subscribed, alhamdulillah! closed for donations.
Assalamu Alaikum Warahmatullahi Wabarakatuh!
There are about 400 families living in this area. Money is colleceted from these families to pay for the muezzin, water and electricity. There are alot of widows in this area and money is not taken from them.
There are 16 cross lanes in this area and the Adhaan is heard only by people from 6 areas as the mic they have is 10 years old.
A new set will cost only Rs.11,000/= (100 USD)
The front portion of the mosque is damaged and need repair.
They would appreciate if they can be helped before this Ramadan.
UPDATE:
Alhamdhulillah, the fund was given by a donor to fulfill this task. May Allah bless him & his family!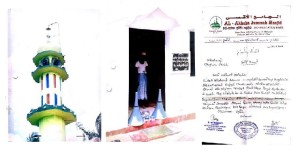 PROJECT COMPLETED!