AN IMPORTANT MESSAGE TO OUR MUSLIMS WHO RUSH TO PRIVATE HOSPITALS EVEN FOR MINOR ILLNESSES.
I fully endorse the views expressed by Mr. Prasi Bandaranayake having gone
through an agonizing period when my grandson 7 months old Grandson's  
platelet count began to drop. Oh! God the services and attentions from the Doctors
to nurses were fabulous. When we were gasping for our breath Doctors in
attendance and nurses gave us hope. Great indeed my grandson recovered.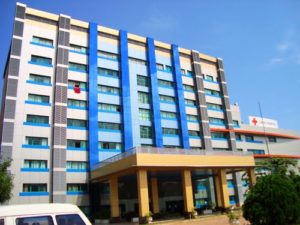 WAY TO GO Lady Ridgeway Hospital!!!
The first thing most parents of middle income families want to do when a child falls sick is to ensure that their child has the best of care, and with this noble intention will not think twice before scraping up their meagre savings to have their child admitted to a name recognised private hospital with all its creature comforts than consider the "much in the news" (for the wrong reasons) government hospital assuming that the former is better.
In many ways their perception seems justified, there are no strict visiting hours so you can be with your child at any time, your sure of a bed not only for the child but also for yourself, you can demand certain amount of service, have access to state of the art medical facilities (the cost of which may send you to the grave sooner than expected) you may even be able to have the doctor changed if you feel so inclined, after all you are paying for it.  In contrast the perceptions of the state medical facilities are that you will never know when they are on strike, your child may not have a bed or even worse may have to share one with a child of a 'less desirable', the service is poor, long lines and waiting times, the place is smelly and not maintained, bathrooms – well that's another story, no medicine, nurses and attendants couldn't care less and doctors are marking time only to run off for their private practice.
But perceptions remain perceptions until you face reality.  However repulsive the initial thought might have been, when our son was diagnosed with dengue, there was no question in our minds on where we wanted to have him admitted.  It was going to be the Lady Ridgeway Hospital (LRH).  The reason was simple enough; they were the best and most experienced to efficiently manage the disease.  In fact, when things go wrong in other hospitals, children are transferred here, not only for better management but for better remedial management as well.
The choice was clear, now it was to brace ourselves for the typical state run delays, lethargy, disorder, abruptness and inefficiency on all counts.  At admission, though, we were pleasantly surprised to find that our son was attended to immediately by a doctor and subsequently by another doctor who took down every conceivable, relevant piece of information in the most pleasant and courteous manner.  This was a refreshing change from most privately channelled doctors, who are generally in a great hurry to dismiss you with very little interest in what the patient has to say.
During the admission process there was another child being discharged.  With all the formalities being concluded for the discharge, something unthinkable happened, the doctor asked the little child for a kiss and the child responded enthusiastically.  It was so nice to see such bonding and love by a doctor (whom you would normally consider to be stoic and aloof) attending on the children in her care, what was striking about this incident was that it wasn't an isolated event, it was true for most doctors attending to children in this ward, they spoke kindly and immediately built up a rapport with the kids.
During our son's stay in Ward 1 at the LRH (perhaps the foremost ward in paediatrics in the country), we found not only the doctors but even the nurses to be ably attentive to the children's needs.  Every child is constantly monitored; doctors check on the children at regular intervals.  If you are assertive enough to question, they care enough to explain. It was always obvious; the foremost concern was the child, his symptoms, his prognosis, his well-being.
The discipline maintained in the Ward in other aspects was also commendable.  Rules and regulations were adhered to in order to keep the place clean and free of food smells and litter.  The wards and even the toilets were constantly swept and mopped.  Toilet facilities though basic were clean and void of noxious smells putting to rest many an anxious hallucination of having to face the unthinkable after literally bottling up for as long as it was physically possible without exploding.  What a relief.  The entire ward was well organised even with the limited resources available.  It was heartening to note that people from all strata of society automatically adhered to what was expected of them.
Our son's platelet count gradually dropped.  However, it was comforting that the staff didn't panic, nor did they take anything for granted.  As one of the Professor's themselves said, "in 24 hours many things could happen with dengue", so they simply took all precautions and strictly monitored the child. Our son was then transferred to the High Dependency Unit (HDU) for even closer monitoring.  The HDU is on par with any ICU found in the best of the private hospitals, thanks to the philanthropy of Messer's Arthur Senanayake and Hemaka Amarasuriya, who had it built and equipped in memory of the sons they lost to dengue.  Today so many children benefit from this generous donation underlined with love and concern for others.  Every hour our child was monitored by a doctor, from blood pressure to fever, with PCV counts taken every four hours, and platelet counts twice a day.
Whilst my son and I were at the HDU, a very sick boy was admitted late at night.  A nurse tried her level best to explain to a less literate mother the process of monitoring liquid intake and urine output, which appeared to be futile.  The nurse in exasperation finally volunteered to help out in the process. It was amazing to see the nurse willing to take on this added responsibility, on top of everything else that she had to do.  As if this wasn't enough of a display of compassion, the nurse then went a step further to ask if the mother had had anything to eat that night and having found out that she hadn't, went out of her way to find some food, despite it being way past hospital food distribution time.  I was both astounded and touched at not only this kind concern but wondering if I would ever witness such in a private hospital.
Seeing the many acts of care, concern and compassion in a state hospital was not only heart-warming, but also reassuring, that the state medical sector has so much to offer despite the political bungling of such services. One might argue that this was one ward, but the fact remains that if this one ward in one state hospital can serve people in this remarkable manner then why can't all the others follow suit?  It is not impossible.  The example is already set.  The path is paved.
We also wish to encourage those who would not consider places such as LRH for their child's well-being that this is perhaps the best place in the country to address your child's needs (emphasis being the child), especially in the case of dengue.  Our heartfelt gratitude to all of you who work so hard with nothing more than a passion to serve the children in your care with no other expectation apart from experiencing the joy of seeing your patients healed and well.  Bravo and kudos to you!
Prasi Bandaranayake
Dr.Reffai