INSTITUTES run by: Almuslimaath
1. HEAD office ,
No 39/7/1A, Peiris Avenue,
Dehiwela, Sri Lanka.
Phone   94 0112 76 51 08
2. Darun Nusra Orphanage – HOUSE OF BENEVOLENCE
Email: [email protected]
Reg No: පබ / පරිලසේ / සේ 01/ කො / 45
Darun Nusra the House of Benevolence is a project initiated by Al Muslimaath in 2007 to empower disadvantaged and marginalized women and girls as well as the revert sisters.
Situated in Dehiwela presently provides shelter for more than 30 women and orphan girls. They are given Islamic and secular education as wells skill training in a secure environment.
This is the only one of its kind in Sri Lanka. There are no residential facilities for revert girls anywhere else in Sri Lanka and all the other orphanages in Sri Lanka enroll children only if the father has passed away. This is the only place where the destitute children, those of widows and divorcees as well as beggars' children are enrolled, rehabilitated and given a chance to lead a normal life.
Children of Darun Nusra
3. Madrasathul Muslimaath
Madrasathul Muslimaath
"The best amongst you are those who learn the Quran and teach it to others."
Girls of any age and boys of less than 12 years are taught to read the Quran the thajweed way and to understand the Quran . The novel method of Iqra is introduced all over the island by Al Muslimaath and the books to teach through this method are published by us which are used in most of the madrasas in the island now.
Here Quran recital is taught according to Thajweed method by trained moulavias and teachers. Duas, Hifl and Islamic practices etc. are taught according to a three year plan syllabus. Hifl is part of the syllabus. Iqra Books from 1 to 7 are published by almuslimaath – including hathees and dua books in all 4 languages – Arabic, English, Tamil and Sinhalese in the same book.
A study circle is held for them on Thursdays at the Madrasa at 4.30 p.m. till 6.00 p.m. at which Islamic way of life is taught through story telling.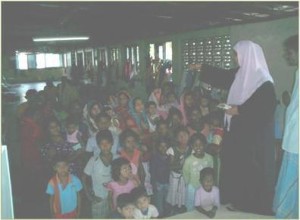 4. Zaid bin thabith madrasa
256, Hospital Road, Dehiwela.
Zaid Ibn Thabit Madrasa
This is a madrasa conducted for young boys and girls who wish to learn quran recitals according to the correct way. The classes are held every weekday in the evenings. The teachers are well qualified and experienced in this field. Due to the higher demand the madrasa now teaches even ladies.
5. Al Asaafeer Nursery and Girls' International school
43, Station Road, Dehiwela. Phone 00 94 11 2761335
and Al Asaafeer Boys' International school
26, School Avenue, Off station Road, Dehiwela
Al-Asafeer Islamic Nursery and International Schools
This was an Islamic nursery set up to enable the children to acquire Islamic oriented education of the highest quality at a reasonable price, with the assistance of WAMY. Now it is functioning managed by Almuslimaath alone.
English, Arabic, Tamil and Sinhala all four languages are taught to the children. Quran recital is included in the curriculum.
Al-Asafeer Islamic International Schools
It is now extended to become two fully fledged Islamic schools – one for Girls and one for Boys, both situated in the Station Road, Dehwiela.

6.Madrasathu Ummil mu'mineen lil muslimaath
7. And Pre school teacher training Academy
18, School Avenue, Off Station Road, Dehiwela
Phone 00 94 11 2739632
This is a Tamil medium madrasa for Girls after their O/L or A/L examination. This academy teaches them Quran, Sunnah and Fiqh along with home management in order to make them ideal knowledgeable Islamic wives and mothers. With Islamic Studies they are taught Cookery, Pottery, Crochet, Dressmaking, Hand Embroidery, Gardening, Beauty culture, Henna Decoration and Family Nutrition.
Also they are taught public speaking and leadership so that they will be efficient da'eeyas. This is an in house residential course for four months. Currently the 30th batch is residing and is learning.
8.Al alima Course in English medium.
A new course to prepare the student for Al Alima examinations in English medium is started this year 1012. We expect to produce English speaking da'eeyas in the near future.
Call 2739632.
Ummu Mu'Mineen Convocation
9.Rainbow center for Special children
23/3, Windsor avenue, off Vanderwert Place, Dehiwela
A school for disabled children of all ages and religions set up on 25/6/2012 alhamdulillah. Trained teachers and sympathetic care takers educate the children to the best of the children's ability.
A school with residential facilities is expected to be set up in the near future for children from outstations.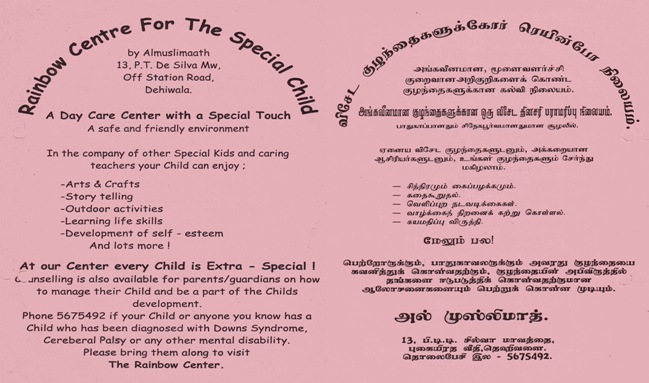 10. Mount Hira Nursery, and international school
19, Thaksala Road, Sarikkamulla, Keselwatte, Panadura. Tel : 038 12550
Mount Hira Nursery & International School
This is an Islamic nursery set up in 2004 to enable the children in and around Panadura area to acquire Islamic oriented education in English medium.
The nursery children are taught according to renowned AMI method for a very affordable fee. This school has up to grade 5 and all children are taught Quran, Hadees, Dua, Hifl and Arabic along with the normal school curriculum.
HANDED OVER TO THE NEW MANAGEMENT IN 2011 DECEMBER
11. Marriage Bureau 
A free service of matching prospective marriage partners is available. Islamic weddings and Islamic way of choice of partners are encouraged.
The application forms can be obtained by sending a SAE to Almuslimaath or downloaded from this site.
ASSISTANCE FOR MARRIAGES
Monetary assistance is given towards conducting a simple marriage ceremony for the poor whenever possible.
Sets of bridal dress is available for borrowing at the Office.
Donation of dresses, new or nearly new as well as household items and furniture arranged for poor brides.